Here's there the rubber hits the water.
Minnesota Whitewater Rafting tours are suitable for just about everyone. However, it is very important to keep in mind a few basics.
The first, and most important basic is that this is not an amusement park ride.
 Minnesota Whitewater Rafting guides do their best to keep all our rafters safe but we have to play by Mother Nature's rules.
The second basic is that whitewater rafting is an activity which takes place in an active natural environment on the St. Louis River. Because of changes in water flows, water levels, and other conditions no two trips down the river will ever be the same.
The third basic is that different conditions require different approaches as we travel down the river. Our guides' many years of experience allow us to safely guide you and your group down the river.
And finally, Whitewater rafting requires all participants to actively paddle and even steer the raft where the guides lead--we don't take you down the river, we guide you and your group.
---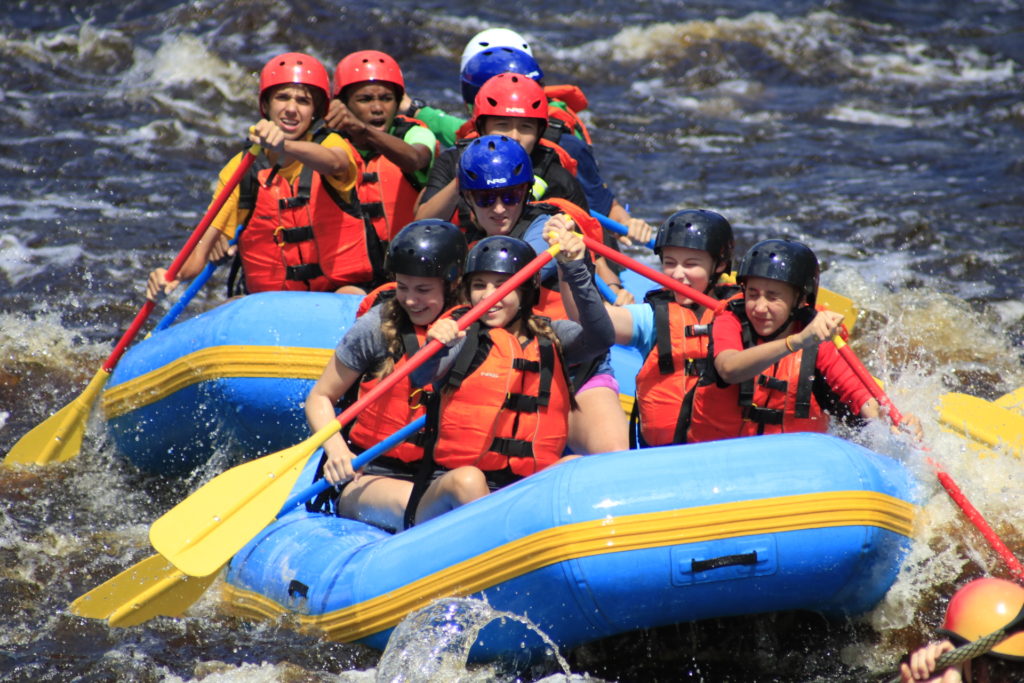 See the River, Feel the River, Ride the River.THE LAFLEURS
---
Very few handicaps or conditions will prohibit anyone from safely participating in our whitewater rafting trips. Because of the nature of whitewater rafting, as noted above, experience has shown that some conditions preclude participation.
Our experience has led to guidelines about who can safely enjoy our whitewater rafting trips:
Cannot Be Pregnant--we do not want you to risk your pregnancy (and wouldn't want to jeopardize a future rafter)
Must Be At Least 10 Years Of Age--don't get us wrong, we love children (some may say we never outgrew that ourselves). Our experience is that under 10 is too small to effectively paddle and safely maneuver if they should end up in the river (not a goal but it does happen).
Must Be Capable Of Following Directions Given In English--Although some of us are multi-lingual, it is still important that all participants be able to clearly understand, and quickly respond to, our advice and directions during your trip on the river (Mother Nature only speaks one language-- force of gravity pulling mass of water).
Must Arrive Sober And Drug Free--We simply have to deny participation, without refund, to anyone who is under the influence of any kind of mood altering chemicals, including alcohol, for the safety of all participants.
PLEASE CALL US REGARDING ANY UNIQUE PHYSICAL OR HEALTH CONDITIONS
We strive to accommodate everyone, however, we reserve the right to deny participation in our whitewater river rafting trips.
We always defer to to Mother Nature's rules and must act to ensure your safety or the safety of others.