Have Questions?
We have answers:
It's based upon years of experience and reflects our ongoing effort at minimizing the risk of the sport and providing for you the most pleasant, most exciting and safest trip possible.
Please call (218) 522-4446 or email us at MNWhiteWaterRafting@gmail.com if we can answer any questions.
Our desire is to help make this one of the most fun, safe, & memorable outdoor adventures you've ever had.
---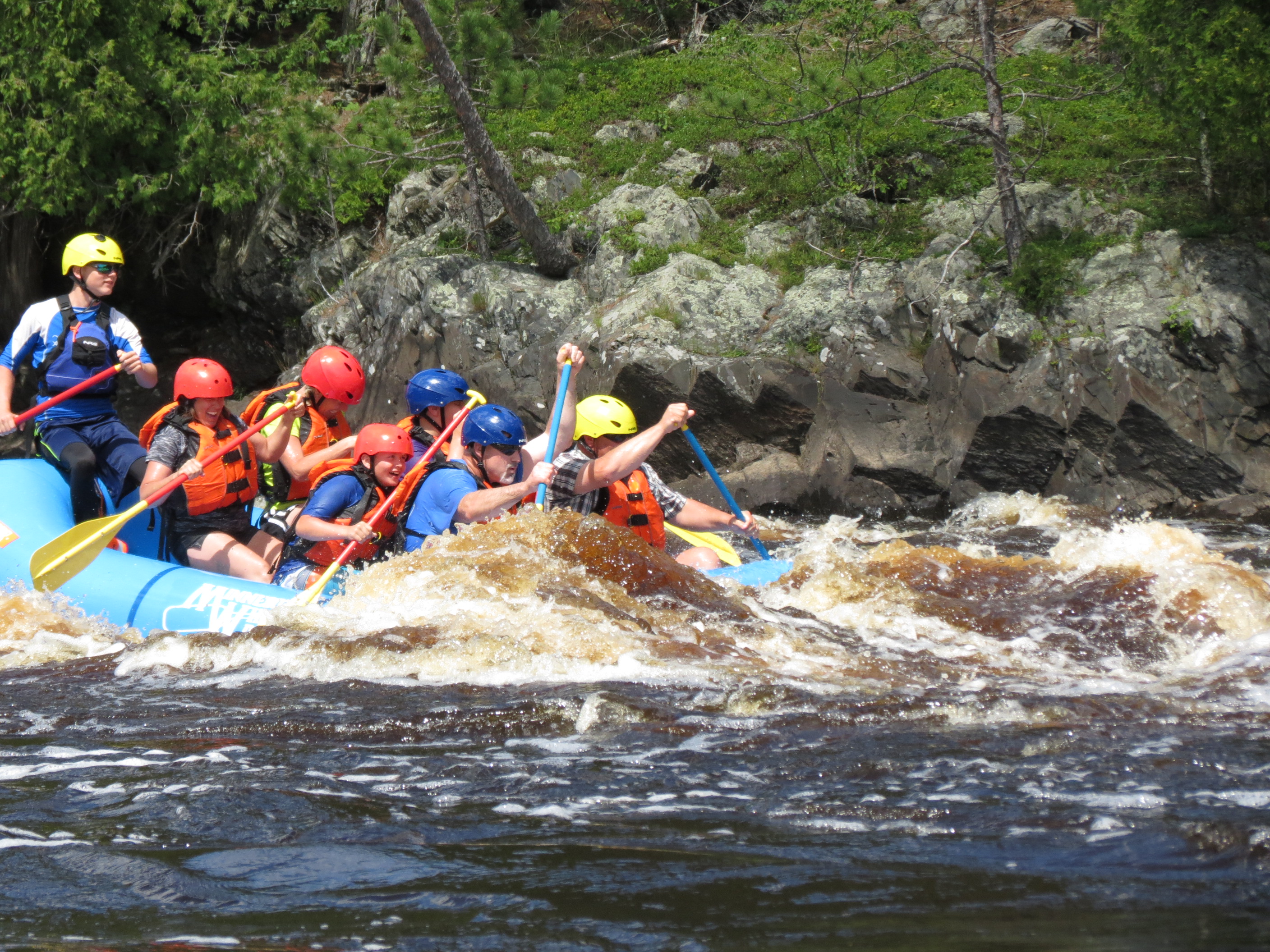 Q: What class rapids are in the St. Louis River?

A. CLASS I-IV RAPIDS. Our trips on the St. Louis have rapids ranging from: Class I - Rapids with moving water and small waves that tug at the raft in a downstream flow. Smooth water, open passages, gentle curves, and light ruffles. Class IV - Longer, more difficult rapids in turbulent water. Typically requires more complex maneuvering. Can consist of constricted passages and obstacles, often with irregular waves and more drops. The sections of the St. Louis River we run on are unique because they generally progress from Class I through Class III/IV Rapids.
Q: What if it's raining?

A. OUR TRIPS RUN RAIN OR SHINE. You'll get wet anyway. You'll stay warm if you follow our advice on clothing. If necessary, you can always opt to rent a wet suit to ensure your comfort. Trips can be canceled only by us due to health threatening conditions. We issue no rain checks or refunds. Within 2 weeks of your trip, your commitment is non-refundable and your trip will not be rescheduled. We reserve the right to cancel due to safety concerns, extreme high or low river conditions or low attendance. If we do cancel, we are not responsible for costs incurred other than reimbursement of rafting fees and you will receive an immediate refund or an opportunity to reschedule.
Q: When should I make Reservations?
A: Reservations can be made at any time, up to a year in advance. Or, you can choose to call us at any time, even at the last minute to see if we have room. We often, but not always, have room for last minute additions or reservations. So, don't hesitate to call us to secure any available places. If you have any questions, or if we can assist you in planning an adventure that you and your friends will look forward to repeating again and again, please give us a call...we'll take care of the rest
Q: What should I wear?
A: BRING WARM CLOTHES IN CASE OF COLD WEATHER. Bring warm clothes regardless of what the conditions are at home. Weather can change suddenly and can be dramatically different in our area. Please come prepared for the worst conditions. You can stow your inclement weather gear in your car if it's a warm day.
-and-
A: WEAR NO HEAVY COTTON ON THE RIVER. Heavy cotton clothing, including jeans, sweats or long underwear, cannot keep you warm when it gets wet - and you're sure to get wet. To maximize your comfort, bring synthetic (fleece, rayon, polyester, nylon, etc.) or wool clothing, all of which insulate well when wet. The less cotton you wear the warmer and more comfortable you'll be.
Q: What if I want more protection from the elements?
A: WE RENT WET SUITS. –If you follow our advice on what to bring you should not need one (except early and late season - when we reserve the right to insist on wet suits). We'll provide wet suits for free only if we insist on them for your safety, not just for your comfort. The decision to offer free wet suits is ours alone. Wet suits can be rented for $12.00 per full suit, or $6.00 per half suit. They will be available for rent when you check in for your trip, and are half price in September. If you have your own, it's wise to always pack it just in case the weather turns against you. Under our wet suit, you should wear swim suits, synthetic long underwear or tights, or shorts & T-shirts.
Q: What can I bring with on the raft?
A: GENERALLY NOTHING ALLOWED ON RAFTS. Feel free to pack a lunch, water bottle, etc. however, we discourage bringing any of these things on the river with you. Great odds that you will wet, lose, or break such items, or they may create a hazard to you and others on the river. If you feel you must take anything on the raft with you, please consult with us before your trip.
Q: Are there any safety precautions?
A: Yes, several:
ALCOHOL AND DRUGS ARE NOT PERMITTED. We reserve the right to, and we will, deny participation (without refund) to anyone who is not sober upon arrival or during our trip.
MUST BE IN GOOD HEALTH TO PARTICIPATE IN OUR RIVER TRIP. This is not an amusement park ride. For your safety and the safety of others in your raft it is important that you be able to paddle strenuously against strong currents and into large waves while maintaining seated balance. (Sorry, we lost the seat-belts)
CANNOT be pregnant.
MUST be intellectually and emotionally mature enough to understand and to follow our advice.
MUST hear well and understand English very well.
MINIMUM age is 10 years. Under NO circumstances will a child UNDER 10 YEARS OLD be allowed on our river trip.
EXCEPTIONS:
If anyone in your group has any unique medical, physical, intellectual or psychological condition please CALL US with that information. We'll make every effort to accommodate them. There are a few conditions which would disqualify a person from whitewater rafting trips. However, please call us regarding any unique condition as soon as possible to avoid the risk of arriving for your trip, only to be refused on the bank of the river.
Be sure to BRING ANY MEDICATION YOU MAY NEED on river.
Please read our guideline, "WHO CAN GO RAFTING WITH US".
Minnesota Whitewater reserves the right to refuse participation in our river trips to any person, before or during a trip, in order to provide for the safety of that individual or others on the trip.
All participants, over the age of 18, MUST sign a liability release upon arrival as a condition of their participation in the trip. Also, all participants, ages 10 through 17, MUST provide on arrival, our PARENT OR GUARDIAN ASSUMPTION OF RISK AGREEMENT AND RELEASE  signed by their parent or court appointed legal guardian only. Minors will be refused participation in our trip without the signed, highly legible (if copies are made), Minor Release Form. Despite our superb safety record, it must be understood that there are inherent risks due to participation on a whitewater rafting trip. Minnesota Whitewater assumes no legal or financial responsibility for any participants' personal safety or loss or damage to personal property.
Please be sure to arrive ½ hour prior to your trip start time to allow for check-in and preparation.
WE CANNOT AND WILL NOT WAIT FOR LATE ARRIVALS.
GROUP LEADERS, PLEASE MAKE SURE THAT EVERYONE IN YOUR PARTY RECEIVES THIS INFORMATION